Holiday budget stress? How to save money during the holidays & spend less
5 min read
November 07, 2022 • Spruce
You know it's coming: The holiday spending season is just around the corner. But if that reminder makes you and your pocketbook wince a bit (or quite a lot!), you're not alone. This year, holiday shopping is weighing heavier on many people's minds.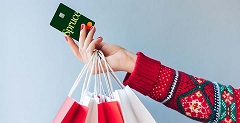 In fact, according to an H&R Block survey, nine in 10 people are concerned about inflation and rising prices impacting the upcoming holiday season.*
Whether it's holiday gifts, decorations, wrapping supplies, shipping expenses, holiday parties, trips, food, or drink, it all stacks up — which can make you feel less than cheerful about your holiday season finances.
So, what should savvy shoppers do to take control of spending while still staying festive? We're here to tell you! Read on for holiday budgeting and spending tips from Spruce.
Plus, we'll tell you how you can make money when you spend money at select retailers with Spruce cash back rewards!
Holiday budgeting: What's the right amount?
Setting a budget should be your first step as you plan for the holidays. Many people look back to what they spent the year before and try to keep it consistent. This year, that may be a challenge. If inflation is cutting away your holiday budget, it's perfectly OK to dial back on your limit.
As a reference, experts suggest spending at most 1-1.5% of your annual income on holiday expenses. For example, if you make $30,000 a year, you'd set a limit of $300 for a 1% target. Of course, you can always spend less.
Holiday spending tips: 9 ways to take control
Setting your budget is more than doing the math. It gives you a framework for making decisions—helping keep you in control and your spending in check.
Here are a few holiday budgeting tips to help you save money when you shop.
Set limits within your budget. Once you know your overall holiday budget, break it out into how much to spend on each person and on other categories such as holiday meals and décor. Don't forget to include the extras, such as greeting cards, family photos, holiday clothing, travel expenses, etc. A budgeted list now can help save your family budget later.
Reduce your gift list. If you typically exchange gifts with a group, say siblings or close friends, consider drawing names, so each person only spends money on one gift. A fun spin on this is doing a "white elephant" exchange, where participants can swipe gifts from one another. Or maybe your group is also feeling the pinch with their holiday finances and opts to skip gifts.
Put time on your side. Once you know how much you're spending on whom, start shopping around to see which stores have the best prices. Ordering online? Be sure to order a couple of weeks before the big day as shipping costs can skyrocket as holiday dates near.
Consider homemade gifts. It's not all about Black Friday deals! Cookies, crafts, and spice mixes are great personal gifts that could work for one or more people on your list and help keep your holiday spending down. Just be sure the ingredients and materials don't cost more than buying a gift.
Stack discounts. While you're scoping out prices, look for store discounts you can pair up with any rebates, or physical or online coupons. If you're a student, your ID may help you get an extra percentage off.
Get cash back when you shop. Who doesn't want to make money when they spend money? With Spruce, it's easy. With more than 10,000 participating retailers, you can score cash back rewards at select clothing stores, wholesale stores, grocers, and more.
Be budget and environmentally friendly. Go digital with your greeting cards by sharing them via email or social media. Another option is to get a couple of years' use from gift bags by storing them flat after the holiday.
Be aware of the "buy now, pay later" pitfalls. Online sites sometimes feature a way for you to break up your purchase into multiple payments. That may help in the short run, but if you make late payments, you may end up with unnecessary fees or debt.
Bump up your income with a seasonal job. Lots of shoppers mean stores need extra help, often with flexible schedules. Take advantage of part-time job opportunities to earn more money. Bonus: Find temp work that comes with a discount.
How to save money for the holidays: Looking ahead
As you determine how to save money during the holidays, consider making it a longer-term strategy in the year to come. Saving early could help you avoid charging gifts on a credit card during the holiday season.
While you may not know what video game or gift-worthy kitchen gadget may be popular next December, or what your travel costs might be, you can still set money aside early. For example, if your budget is $300, you'd only need to save $50 each month if you started saving in July. Or, if you have a month with extra income, you can set that money aside to be ready for the holidays.
With Spruce, you can tuck that money away as a separate saving goal, helping you reduce the temptation to dip into your funds.
Need ideas on how to kick start your savings? Check out our savings calculator or get help from Spruce on topics like family budgeting and saving tips.
How Spruce can help you be better with money
Spruce is all about helping you be better with money — so you can keep up the cheer during holidays and year-round. With features like saving goals, cash back rewards, and getting your paycheck up to two days early, you can be well on your way to getting better with money day by day.
* "2022 Inflation survey" conducted by H&R Block among 1,007 U.S. adults.
This information provided for general educational purposes only. It is not intended as specific financial planning advice as everyone's financial situation is different.
Was this article helpful?