How much does a wedding cost?
7 min read
March 04, 2022 • Spruce
Are you recently engaged and hear a faint ringing in your head? Is that church bells chiming or a cash register?
Whatever the case, the average wedding isn't cheap. In fact, in 2021 the average wedding costs $22,500.1
After you get engaged, you might find yourself in a mad dash to figure out what wedding costs to prioritize and determine a budget for your special day.
If the idea of wedding costs is starting to make you and your fiancé sweat, don't worry — you've got this! With some good sense and a good plan, you'll be able to determine how much your wedding is going to cost by prioritizing your needs and creating a sensible wedding budget. Plus, the team at Spruce is here to help you with budgeting tips for your wedding.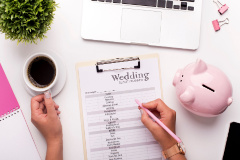 To get a general idea of how much people spend on their wedding, we'll outline the average cost for things like a ring, catering, cake, a dress, and a wedding planner below.
Need help saving for your wedding? Spruce mobile banking can help you take steps saving toward your big day. With Spruce's saving goal feature, you can choose to put away money automatically for your goal. You can also use our savings calculator to figure out how long it may take to reach your goal of saving for your wedding!
How much money should you spend on a wedding ring or engagement ring?
The first major expense of your wedding journey is a ring. When determining how much money you should spend on a wedding ring (or engagement ring), your personal finances and preferences should be a big part of this decision. Like many wedding-related expenses, you need to strike a balance between making it special and staying within your budget.
One rule of thumb you've probably heard is that you should spend the equivalent of three months of your salary on a ring. While many engaged couples have followed that rule, it can be an unnecessary financial burden — especially considering that this "rule" was created around a marketing campaign, not financial advice.2
In reality, you can spend anywhere from less than a hundred to thousands of dollars, depending on the type of ring you get. For example, you could swap a diamond for cubic zirconia or a more affordable lab-grown diamond and save thousands of dollars. Or, as is increasingly popular among couples, opt for a minimalist metal wedding band.
Average wedding cost breakdown
Every couple — and every wedding — is different, so any average wedding cost breakdown is only intended to give you a sense of what others spend. Ultimately, your wedding costs will depend on you and your soon-to-be spouse's priorities. Once you determine which aspects of your wedding are the most important, you can budget accordingly.
No matter your wedding plans, it's helpful to know the average couple spends on these major wedding costs to determine what is a reasonable amount to allocate to these items in your wedding budget.
Average price for wedding catering:
Serving a memorable meal is a priority for most weddings. In addition, many couples want to offer wine, beer, and mixed drinks to their guests. While the average price for wedding catering is around $70 per head, wedding catering prices can fluctuate based on the number of guests, venue, and the type of celebration.1
Average wedding cake cost:
The wedding cake is a big part of the American wedding tradition. While the average wedding cake cost is around $350,3 there are many more affordable options depending on how elaborate you want your wedding cake to be.
Average wedding dress cost:
The price tag for your bridal gown can also vary based on the brand, fabric, embellishments, and the like. However, on average, wedding dress costs were around $1,600 in 2020.1
Be mindful of the fact that alterations and custom modifications can increase the price of the dress. Beyond this, your veil, shoes, purse, and other accessories can add up, too.
Average price of a wedding planner:
A wedding planner can be the smallest or largest cost of your wedding budget. Speaking in terms of the average price of a wedding planner, couples spent $1,500 in 2020.1
Keep in mind, the final cost depends on how involved you want them to be in the process and if you need them for:
Your wedding day
The month of the wedding
The entire planning process and wedding weekend
Ways to lower your wedding cost
Luckily, wedding costs are not fixed. There are ways to reduce or eliminate some common wedding expenses. Through smart budgeting, you can take control and decide what makes sense for you and your fiancé.
If starting married life with good financial habits is important to you, finding ways to trim your wedding budget together can be a great place to start.
Here are some inventive ways to lower your wedding costs:
Enlist your talented friends and family to help. Find a friend to take pictures rather than hiring a photographer or have a friend or family member serve as a wedding planner.
Looking for an affordable wedding dress? Shop sample sales, vintage stores, or online used wedding dress selling websites.
Find an alternative day of the week to get married. For example, Fridays and Sundays are usually cheaper than Saturdays at most venues.
Trim down your guest list. The less people you invite, the less expensive it will be.
Find an affordable venue like a local park or even a backyard.
Use digital invites instead of mailing them to save on printing and postage.
Spend less money on table decor. You can either opt for a simple table design or design centerpieces yourself.
Reduce your catering costs by opting for a buffet style rather than a plated dinner. Choose lower cost, but fun options such as a taco bar or pasta bar (opt for slightly smaller plates to keep portions in check). Or ask a few family members to make a special family recipe for your side dishes, leaving the entrée for the caterer.
Get creative with how you serve dessert. Cupcakes, doughnuts, or even a sundae bar can help trim the final bill because you don't have to pay for cake cutting services.
Don't forget about the costs that creep up on you, like taxes, tips, and added fees. As you research the right wedding vendors, ask for a breakdown of every line item so you can view the full cost.
Ask for referrals from your friends and family for wedding vendors — you may find some hidden gems that way!
As you weigh your budget options, it's also helpful to start saving for your big day. Check out these saving tips.
Tailor your wedding costs to you
Knowing what matters the most to you on your wedding day makes budgeting for a wedding a bit easier. With carefully set priorities in place, your big day won't be as financially stressful as you think.
How Spruce can help you save for your wedding and more
With Spruce, you will get a Spending Account and Savings Account to help you manage your money.  You can set aside money automatically for your wedding expenses, letting you take one less thing off your to-do list.
Find out more about all the features Spruce has to offer.
This information provided for general educational purposes only. It is not intended as specific financial planning advice as everyone's financial situation is different.
Was this article helpful?