How much should I spend on a car without busting my budget?
5 min read
Spruce
While you may see clear benefits to owning a car, the price you should pay for a new set of wheels can be a point of discussion. If you're in the market for a new vehicle, it's important to have a clear understanding of your financial situation and how much you can afford to spend.
In this post, you'll find information that will help you answer the question "How much should I spend on a car," what percent of your salary should go to a car, and what are average maintenance and insurance costs, as well as some thoughts on buying a new vs. used car.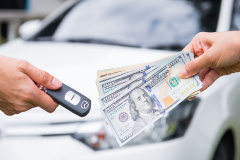 What percent of your salary should go to a car?
One school of thought is that you spend about 10% of your income on transportation, including your car payment, insurance, and fuel. When you are thinking of how much to spend on a car it's important to think about these monthly expenses based on how often you're paid.
Many people like to view this as part of a monthly budget. Putting savings towards a down payment will reduce your monthly car payment and could improve your monthly budget. Plus, saving up and reducing your payments may also let you purchase a better vehicle.
Bear in mind that your income and credit score will likely be assessed as part of the buying process if you are seeking financing. (Related: What is a good credit score?)
Saving for a car? Here's how Spruce can help! When you know how much you need to save, Spruce mobile banking can help you take steps towards that goal. With Spruce's savings goal feature, you can choose to save towards your car purchase automatically. You can also use our savings calculator to help reach important personal financial goals.
How much does the average car cost? Should you buy a new or used car?
According to Kelly Blue Book, the average cost of a new car was over $45,000 in September 2021. That's a lot of money for most people. If you have an average credit score, a auto loan with a four-year loan term and $1,000 down could cost you over $1,000 a month. Despite the ongoing rise in car prices, there are many options for more affordable new vehicles and seasonal sales and promotions (like low or no interest rate loans) at auto dealerships.
You also have the option of buying a used car, which can save you some serious money. On average, a new car loses 20% of its value the moment you drive it off the lot. After the first few years, a vehicle will depreciate approximately 10% per year. Because of this depreciation, a late model used car with low mileage can be an excellent value.
However, you should consider maintenance costs if you decide on a used vehicle, as they may be higher. A used car, especially an older model with high mileage, may have some obvious or hidden issues that lead to significant maintenance costs. Going with a low-mileage, manufacturer-certified used car can help alleviate this risk.
Knowing the average car cost can give you a feel for price, but if keeping your car budget in line is a priority, you'll also want to consider additional costs. We'll touch on a couple of those below. You can also look at car reviews to get a sense of how the make and model you want holds up over time.
What is the average car maintenance cost?
The monthly payment for a car, or the upfront total purchase price of the car, are not the only cost you'll need to account for. According to the Bureau of Transportation Statistics, average car maintenance costs were approximately 9 cents a mile in 2020. These maintenance costs include oil, repair, and tires.  
Your average car maintenance cost will vary depending on the car make and model you choose. Additionally, consider how your car of choice is likely to require increased maintenance over time.
What is the average cost of car insurance?
Another key factor to consider when financing a car is insurance payments. So, what is the average cost of car insurance? In 2021, a Kelly Blue Book article cites the annual average cost of car insurance at $1,633.
However, it's good to keep in mind that insurance costs and minimum requirements can vary significantly by location and based on your individual driving record, demographics, and age. Essentially, the longer you've been driving and the fewer accidents you've been in, the better your insurance rates will be.
To find out exactly what you'll pay on a particular vehicle, you'll need to speak to an insurance agent with your chosen agency or obtain quotes online. While shopping around for the best insurance deals can be beneficial, there are also advantages to sticking with your current provider when you purchase a new vehicle. They often offer programs like loyalty discounts, safe driver discounts, multiple car discounts, and the ability to save by bundling home/rental and auto insurance.
What are the fuel costs?
Fuel costs are another expense that varies widely from vehicle to vehicle. Performance cars and large trucks and SUVs generally have the lowest gas mileage, while compact vehicles have much higher fuel efficiency. You need to strike a balance between having a vehicle that is big enough for your lifestyle with the cost of gasoline.
Gas prices fluctuate frequently, so it's best to estimate your fuel costs based on a yearly or multi-year average. You can also consider a hybrid gas/electric or plug-in all-electric vehicle to reduce or eliminate fuel costs. However, these vehicles are typically more expensive than their gas-powered counterparts and there are also significant charging and electricity costs associated with an all-electric vehicle.
How Spruce can help you save for a car and more
With Spruce, you will get a Spending Account and Savings Account to help you manage your money.  You can choose to tuck money away automatically for the goals you choose. So, before you know it, you'll be on your way to having enough for leasing or buying a car.
Find out more about all the features Spruce has to offer.
This information provided for general educational purposes only. It is not intended as specific financial planning advice as everyone's financial situation is different.
Was this article helpful?