Money management tips for a brighter financial future
6 min read
April 22, 2022 • Spruce
Managing money with guidelines in mind can seem overwhelming, even impossible. With endless to-dos, juggling your work and personal life, it might not be your favorite thing to look forward to doing. But without them, many of us tend to spend without rhyme or reason.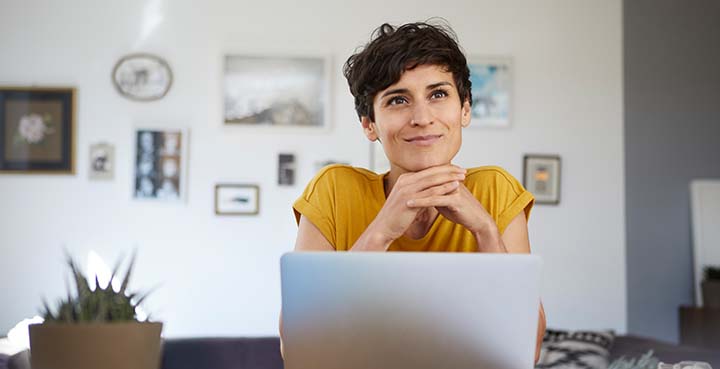 However, following reliable money management tips can help you get out of the never-ending cycle of living paycheck to paycheck and the feeling of being stuck financially. What's more, good money management can bring peace of mind and less worry.
Luckily, any time is a good time to get back on track. So how do you do it? We have some money management tips, as well as expert guidance on how to manage your expenses and save money.
How to spend money wisely
Learning how to manage money wisely is an important concept for developing healthy personal finance habits. You work hard for your money, so you want to make sure you get the most out of every dollar. And, luckily, being mindful of some spending strategies can go a long way.
Check out our tips below outlining how to spend money wisely. We'll also share how Spruce mobile banking can help in your journey to getting better with money.
1. Keeping track of expenses:
Without keeping track of expenses, we all tend to spend money carelessly. Let's face it – a few dollars here and there can add up to hundreds by the end of the year — and all of a sudden, your bank account is overdrawn. But, when you're keeping track of expenses, you gain some control.
So, how do you do it? First, determine the money coming in, then track each expense going out using bank or credit card statements. You can do this through spreadsheets, financial tracking apps, or the envelope method, which involves separating envelopes into specific categories and putting a designated amount in each envelope to use each month.
As you look at your bank statement, do you see charges stacking up for using ATMs? Avoiding out-of-network ATM fees is one small way to get your money spending habits in check. With Spruce, you have access to more than 55,000 fee-free ATMs nationwide. Plus, Spruce has no sign-up fees and no monthly fees.
2. Curbing the habit of over-the-top spending:
Are there spending categories that drain your budget? After you track your personal finances for a few months, you'll begin to see spending trends in areas that aren't necessary. For instance, maybe you're spending too much on clothes, dining out, getting coffee, visiting the salon, or on entertainment. Once you assess the areas that regularly eat up your paycheck, you can work to dial down spending in that area.
3. Reducing recurring payments:
Look at your bank or credit card statement for monthly or other periodic payments. Are there some things you can totally do away with? For example, if you're using five entertainment streaming services, could you drop it to two or three?
Or are there some recurring payments that you can trim? For instance, your cell phone, cable subscription, insurance, and utility bills can be reduced by asking providers to negotiate deals or help spot places you could save. You could even lower your loan payments by consolidating them. For example, if you have student debt you're paying off from a few different sources, you can consolidate them into one loan and potentially trim the total cost.
Once you've identified ways to tighten your spending, it's a smart idea to start or build on your emergency fund or other savings goals.
Here's another place where Spruce can help. Spruce's saving goals feature makes it easy for you to set aside money for a specific goal little by little
But a word of caution, if you're struggling to pay bills for your necessities (ex., rent, car payment), you'll want to use any extra cash towards that end, so you can avoid missed or late payments.
4. Paying bills on time:
Paying your bills on time is a critical aspect of healthy money management. These days, most people seemingly have endless bills to pay. Yet, they are important to pay. Understanding when your bills are due and consistently paying them on time can reduce the stress of having lingering payments due, boost your credit score, and provide you with the opportunity to get lower-interest credit in the future. Plus, being on time with your bills can mean you're not wasting your money on late charges.
The best plan of attack for paying bills on time is to sign up for automated monthly payments, so you don't have to log in to each account to pay your recurring bills. You can also consolidate bills with one provider (like cable, internet, and phone, for example) so you have fewer bills to remember to pay. Taking control of your bills can help you better understand the money coming in and out of your account, as well.
How to manage your expenses and save money
As we touched on above, one clear benefit of reducing what you spend, is that you can free up money in your budget for savings. Essentially, learning how to manage your expenses and save money is the key to being better with money.
There are several ways to create a budget that breaks your income into various categories. What they have in common is keeping savings in mind.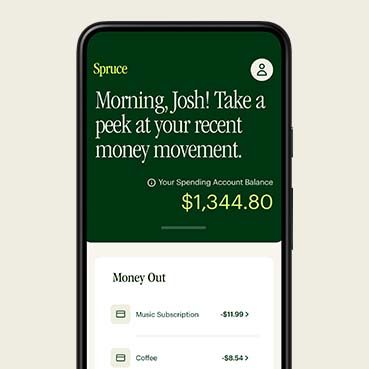 Whether you're able to commit to a set percentage, or you base it on what expenses you've reduced for that month, it's important to set something aside. Even if you're starting small, building up an emergency fund or savings account over time can help when the unexpected hits.
(Related: Check out our savings calculator.)
Knowing you could tap your savings for an unexpected $100 bill rather than missing a utility bill can keep you on track financially and spare you some of the stress that comes with financial surprises.
Money management tips and more with Spruce
Believe it or not, you've already taken the first step to better money management: educating yourself. The next steps — committing to healthy spending habits — is easier with Spruce.
With features such as cash back rewards and overdraft protection , Spruce can help you get well on your way to getting better with money day by day.
Find out more about all the features Spruce has to offer.
This information provided for general educational purposes only. It is not intended as specific financial planning advice as everyone's financial situation is different.
Was this article helpful?