Creating an emergency fund
6 min read
Spruce
Putting away money for an emergency situation is one of the first steps you should take if you're looking to be better with money. But, if you're like many people, you may not know where to start building emergency funds or how much of an emergency fund to build. 
We understand that this can seem like an overwhelming task. Take heart and know the team at Spruce is here to help.
To help you start your emergency fund, we'll unpack this topic and cover related questions so you can move forward confidently.
What is an emergency fund?
First, let's define what an emergency fund is. Ideally, your emergency fund is a separate savings account that you only use in the event of a financial emergency. This could be an unexpected doctor's bill, a surprise car repair, if you've lost your job, or even a natural disaster.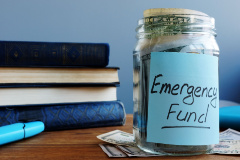 Whatever the emergency case may be, it's important to try not to use this account for routine expenses. Doing so can eat away at the money you've worked hard to save, leaving you in financial distress when you need access to fundsthe most.
Why saving money for unexpected expenses is important
Sometimes you'll hear people refer to an emergency fund as a safety net. This is a good way to think about why you have this money set aside. Essentially, your emergency fund can save you in moments of crisis — your own persona emergency funding.
Without your safety net, you may turn to other options that can derail you from gaining or maintaining financial stability.
For example, let's say you skip paying a bill or two to cover the car repair. That decision can come with a downside as you're likely stacking up late payment fees or other penalties.
Having an emergency fund can help you avoid some of these hard choices when financial hardship hits.
Emergency fund vs. saving for other goals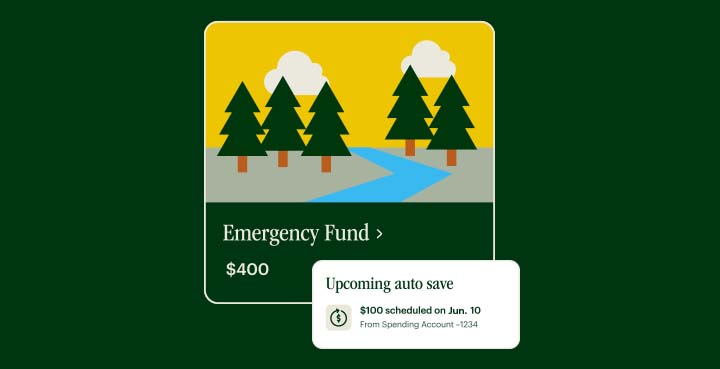 You can save for an emergency fund alongside other goals, but if you have no money carved out for emergencies, it could make the situation above even more dire. We recommend starting with an emergency fund and working toward a targeted goal as described below. Once you've met that goal or are at least part way there, you could split your savings and put some money toward a secondary goal.
Want a little help with building your emergency fund? Spruce mobile banking makes it easy! With Spruce, you can tuck money away in a separate account in just a few steps. Or you can opt to make it automatic by transferring a set amount from your Spruce Spending account at intervals you choose. Learn more about Savings Goals and other Spruce features.
(Related: Check out our savings calculator to figure out how long it may take to reach a specific personal financial goal.)
How much should I have in my emergency fund?
Knowing how much you should have in your emergency fund will depend on your personal situation. In general, some experts recommend you have enough money to cover three months' worth of expenses.
While this can help you with those unexpected bills, it also gives you something to pay your normal expenses in the event of job loss. The idea here is that you can continue to pay for essentials for a short while as you look for new employment.
If three months' worth of expenses is way too high and has you in shock, don't throw in the towel just yet. If you can only find a small amount in each paycheck to add to savings, you should do it.
Even if it's just $20 a month, it's a start. Maybe this month it's $20 and next month you can save $50. Count each deposit you can make into your emergency fund a win.
How to build an emergency fund
Creating an emergency fund is not something you come up with all at once. More realistically, this is something you build up overtime.
So, how do you build an emergency fund? That starts with creating a budget that ensures you pay for your essential expenses while you also add money to your emergency savings fund little by little.
There are several budgeting methods you can use, but most of them breakout your money into the following categories:
necessary spending (includes essentials such as rent and utilities)
discretionary spending (covers non-essentials such as concert tickets or dining out)
savings (includes saving for emergencies or perhaps a car down payment)
Next, look at your total income by reviewing your paycheck information. You should use the amount of your take home pay vs. your total pay (before taxes and benefits are removed) to determine your income. If you have consistent income from side job, you can include that as well.
Then, add up all your expenses using your monthly bills, bank and credit card statements, and other receipts as resources. Be sure to categorize your spending using the breakouts of essentials and non-essentials as described above.
Important note: If the amount of all your expenses is more than your income, you should look for places to cut back in discretionary spending if you can. For example, if you're going to the movies or restaurants several times a month, you can reduce how often you're going out to help free up money in your budget.
Want help finding places to save? Check out our article on saving tips.
Finally, the last step is to calculate how much of your income goes into each category based on the budgeting rule you've chosen and your actual income.
Again, if you end up only being able to add a small amount to savings, don't discount it! Some budgeting methods outline a certain percentage of your income for savings each month. But you shouldn't think of those percentages as being "locked-in" and that anything less is not worth it.
We're here to tell you… you can think differently. Say it with us: every. little. bit. counts.
Creating an emergency fund to be better with money
All in all, saving something toward your emergency fund is better than saving nothing. Give yourself credit that anything you put away for your safety net now can help you be better with money in the long run. You'll thank yourself later in the event of unforeseen circumstances.
Saving money for emergencies: How Spruce can help
With Spruce Saving Goals, you can easily put money aside little by little to create your emergency fund. And, if you choose, you can set up automatic transfers from your Spending account towards savings. Plus, with features such as cash back rewards and overdraft protection you can be well on your way to getting better with money day by day.
Get started with Spruce today.
This information provided for general educational purposes only. It is not intended as specific financial planning advice as everyone's financial situation is different.
Was this article helpful?