How much does community college cost?
6 min read
December 13, 2022 • Spruce
Maybe you've just graduated high school or perhaps you want to use continuing education to improve your job prospects. While you're at this proverbial fork in the road, you may see a range of options: a four-year university, trade school, or community college.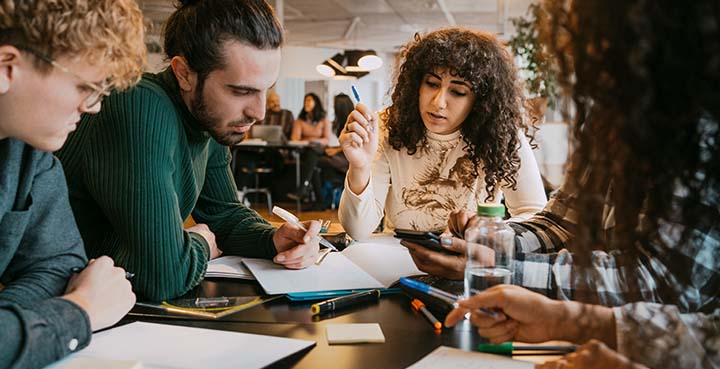 While the first two choices have their benefits, there's a reason millions of people opt for community colleges when considering higher education. Some people find that going to community college helps them save money while they complete general and elective courses and gives them some time to figure out what type of career they want to pursue.
Other students choose community college to build up their grade point average before applying to a four-year university in the next academic year. Of course, there are still others who choose community college because it has the exact degree path that leads to their dream job.
Yet, community college is still a significant expense worthy of budgeting for. If money matters feel like a pop quiz you're not ready to take — don't fret. We're here to help!
In this post, we'll outline many of the community college costs, including community college tuition and other associated fees which can help you with that budgeting aspect!
And if you're wanting to be better with money, Spruce is here to help with a spending and savings account with no sign-up fees. Plus, Spruce has features like cash back at select retailer and overdraft protection of up to $20.
Community college costs: Let's break it down
To help better prepare you for the financial aspects of this decision, here's a breakdown of community college costs:
Community college tuition
According to the National Center for Education Statistics (NCES), the average cost of community college (a two-year community college) per year is:
$3,900 for public in-state institutions (most community colleges fall in the public institution category)
$15,800 for private for-profit institutions
$18,000 for private nonprofit institutions
Let's put those figures into context with the averages from a four-year college to show the cost savings of community colleges.
| | |
| --- | --- |
| Two-year community college costs* $3,900 for public $15,800 for private for-profit$18,000 for private non-profit | Four-year college costs (per year)* $9,400 for public $18,200 for private for-profit$37,600 for private non-profit |
*Average tuition and fees according to the NCES
Community college semester cost and per class
Knowing the annual cost is one thing, but it may be more helpful to know what the community college semester cost is, so you know how much you'll need to pay each time you enroll. For tuition, we can get to that number fairly easily by dividing the figures from above by two as shown below. However, tuition isn't going to be your only expense (keep reading to understand other college costs).
$1,950 for public institutions
$7,900 for for-profit institutions
$9,450 for private non-profit institutions
Your state residency status matters! The community college cost per credit is $141 for in-state, public community colleges and $339 per credit hour for out-of-state students, according to educationdata.org. So, say you have a three-credit course, which is a common credit amount per class. The average community college class cost would be $423 for in-state students — or $1,017 for out-of-state students. That's a pretty significant difference!
Please note that the total course load will determine how much your classes will cost you.
Books
Some community colleges group textbooks in the total tuition cost, while some charge separately. If buying a la carte, the cost of a college textbook can vary widely depending on its size, subject, whether new or used and learning institution. Over a year, full-time students at public two-year colleges spend an average of $1,460 on books and materials, according to the College Board.
To save money on books, consider buying used if you can. You may also have the option of using an online version or subscription service for an annual or per semester price.
Room and board
Community college all-in costs vary based on where you're living — especially if you're choosing to go to community college out of state or have the option to live at home. The National Center for Education Statistics reports the average cost of attendance at two-year colleges for first-time, full-time undergraduate students is higher for students not living on campus, compared to those who are.
For example, for two-year public institutions, the average cost for those living off campus living with family is $9,700 (includes tuition and fees), while the cost for those living off campus but not with family is $19,600 (includes tuition and fees). Living at home helps people save on rent, groceries, utilities, and other expenses they might incur while living solo. **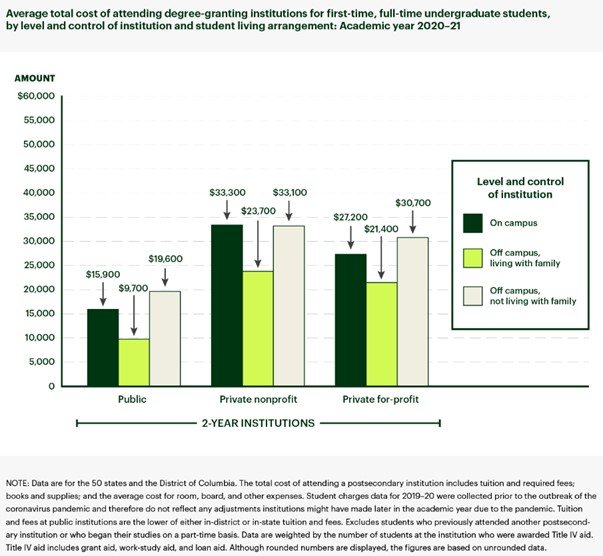 SOURCE: U.S. Department of Education, National Center for Education Statistics, Integrated Postsecondary Education Data System (IPEDS), Winter 2020–21, Student Financial Aid component; and Fall 2020, Institutional Characteristics component. See Digest of Education Statistics 2021, table 330.40.
** The total cost listed includes tuition and required fees, books and supplies, and the average cost of room, board, and other expenses.
Parking and additional fees
There may be additional parking fees if you're driving to and from a community college. For example, if you're a community college student in a big city or another populated metropolitan area, expect to pay extra parking fees. If you're in a more rural area of the country, you may not have to worry about parking fees at all. Remember to factor in student activity fees, technology fees, and even course fees in your financial planning process as well.
Saving for the cost of community college
Hopefully we've answered the burning question, "How much is community college?" You might think community college is financially out of reach, but it can be a reality with the proper budgeting strategies and financial aid.
Before you go directly to the financial aid office, you may want to check out what scholarships may be available to you.
And keep in mind higher learning institutions have various tuition payment plans. So, you may be able to research payment plans for your wish-listed community colleges to find an option that works for you.
Lastly, it's a smart idea to brush up on tips for budgeting as a college student – or get back to the basics with these money-saving tips.
How Spruce can help you bet better with money
College is a great time to take steps to be better with money. And Spruce is here for you along the way. With features like no monthly fees, overdraft protection up to $20, and cash back rewards, you can be well on your way to getting better with money day by day.
Learn more about Spruce's features.
Get started with Spruce today!
This information provided for general educational purposes only. It is not intended as specific financial planning advice as everyone's financial situation is different.
Was this article helpful?