What is a good credit score?
5 min read
March 04, 2022 • Spruce
Your credit score is based on your credit history and your ability to pay your debts on time. Good credit is more than a matter of pride — and it has multiple financial benefits. It can affect your loan terms and rates, approval for loans and credit, renting an apartment or condo, or buying big-ticket items like a car or house. In some cases, employers will run a credit check as part of the job application process.
But what is a good credit score? Read on as we outline credit score ranges, including the best credit score and tips on how to fix a credit score.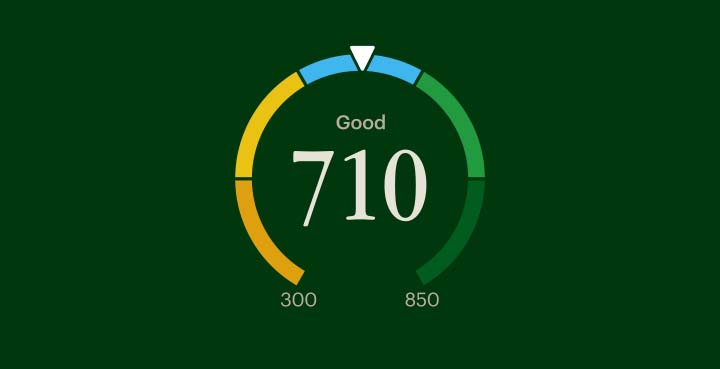 What are the credit score ranges?
First, let's provide some context on the numbers we're about to review. For the two major credit scoring agencies, FICO® and VantageScore®, the overall credit score ranges are both 300 to 850. However, each service uses different categories and definitions of credit scores.
Here are FICO's credit score ranges, from poor to exceptional:
Poor: 300 to 579
Fair: 580 to 669
Good: 670 to 739
Very good: 740 to 799
Exceptional: 800 to 850
FICO scores are based on five factors: payment history, current level of indebtedness, types of credit used, length of credit history, and new credit accounts.
VantageScore uses the following six criteria: payment history, age and type of credit, percentage of credit limit used, total balances/debt, available credit, and recent credit behavior and inquiries.
Average credit score by age
If you're still asking, "What is a good credit score?" or "What is the best credit score?," you may want to know where you stand compared to other people your age.
Here is the average FICO credit score by age, according to a 2020 report from Experian:
Age 75 and older: Average FICO Score of 758
Ages 56 to 74: Average FICO score of 736
Ages 40 to 55: Average FICO score of 699
Ages 24 to 39: Average FICO score of 680
Ages 18 to 23: Average FICO score of 674
In general, average credit scores increase with older groups. Older people have had more time to establish credit, thus their scores are typically higher than those of younger age groups.
However, it's important to remember that exceptional credit is possible at any age. If you handle your debts well, your credit score will reflect it.
Get help monitoring your credit score with Spruce! With Spruce mobile banking, you can keep tabs on your credit score and learn the items impacting it with ease.
Is 700 a good credit score?
While the ranges above are helpful, you may be wondering about your personal situation. For example, "Is 700 a good credit score?" The answer here is generally "yes." The average FICO® Score in the U.S. is 711.
And if your credit score falls within the range of 670 to 739, creditors generally consider this within the "Good" range. If you fall within this classification, you'll likely have access to a variety of credit products, though they might not be at the lowest interest rates.
What credit score is needed for large purchases?
The credit score ranges and averages listed above are helpful in general, you may have specific questions about what credit score you need to make purchases like a house or car.
What credit score is needed to buy a house?
Generally, if you want to purchase a home with a conventional mortgage loan, your credit score should at least be in the low to mid-600s or higher. However, there are more accessible home loans backed by the FHA (Federal Housing Administration) available to people with lower credit scores.
There are some important requirements for FHA loans. People with scores as low as 580 may qualify for an FHA loan with as little as 3.5% down. However, you will have to demonstrate a low debt-to-income ratio (DTI) and be required to purchase mortgage insurance monthly, which is added to your monthly mortgage payment.
What is a good credit score to buy a car?
If you're looking into buying a new automobile in the coming year, you'll may need to obtain a loan to pay for it through a financial institution or independent lender.
When you apply for a car loan, the lender will run a credit check. Generally speaking, you'll need a score of 661 or above to get a car loan. It is possible for buyers with poor credit to get sub-prime car loans, but you should expect to pay very high interest rates.
Related: Review our post on how much to spend on a car.
How to fix a credit score
Many people come into financial hardship at times — but luckily a bad credit score can be improved over time.
The first step is to determine your current credit score. Many credit bureaus and banks offer this information. The good news is you can view your credit without impacting your credit score.
If you discover that you have a poor credit score, the next step is to work to improve it. To do this, you can work to make your payments on or before the due date, dispute credit card errors, keep revolving balances below your credit limit, pay off existing loans, and vary your account types.
For more information, check our post on how to start building credit.
How Spruce can help with your credit score
With Spruce mobile banking, you can learn what makes up your credit score and keep up to date with your progress – all for free.
Find out more about all the features Spruce has to offer.
This information provided for general educational purposes only. It is not intended as specific financial planning advice as everyone's financial situation is different.
Was this article helpful?