Monthly budgeting tips for beginners
6 min read
July 07, 2022 • Spruce
Maybe you're newly starting out on your own, or maybe you're just ready to get your financial ship in shape. Whatever the reason, learning how to create a monthly budget is key for getting a handle on your money.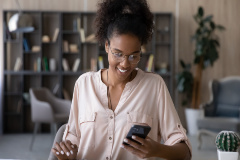 Does creating a personal budget sound like a huge hurdle? Deep breath! We've been there before, and we're here to help you!
What is a personal budget?
A personal budget – in the simplest terms – helps you track money coming in and out of your pocket. Many people are familiar with the function budget planning serves, yet it's a bit trickier to put into practice because it takes commitment and effort.
Luckily, just about anyone can do it and the benefits can be worth the time. Monthly personal budgets are helpful to set because you can view monthly recurring expenses and income – and set financial goals that are within your reach.
Follow along as we outline more facts about monthly budgets, budgeting tips, and other budget management strategies for beginners or those who just want to revisit the basics.
Why should you care about budget planning?
Budget planning can feel like one of those things that you are just supposed to do. But when you look at the big picture, there are clear benefits.
When your spending is under control, you'll be able to carve out extra money for the unexpected. This could help you pay for emergency expenses without incurring any debt – or perhaps less debt. This can be a big win for keeping your finances on track.
Additionally, you can save for short- or long-term goals. Whether it's a night out on the town or a weekend away with your favorite friends, with a budget you can appropriately set money aside for whatever your savings goal is. (More on this later!)
Let's not forget about the stresses that come with finances. When you properly map out money coming in and out, you're in the driver's seat. It may be stressful to have a tight budget but knowing where you stand and having a plan can help relieve some of this worry.
Methods for creating a budget
While creating a budget, choose a method that you know you can stick to. That might mean it's relatively simple for you to follow through with.
There are a few budgeting methods to consider:
Envelope method: This budgeting method involves physically stuffing and setting aside envelopes with cash in them for specific spending categories.
Pay yourself first: The pay yourself first budgeting method works exactly as it sounds. You fund your savings goals first, then use the remainder of your paycheck however you like. Your saving goals can be small amounts – or if you have the means you can save for bigger purchases!
50/30/20 rule or 70/20/10: This budget planning method involves setting aside a percentage towards your needs, wants, and savings goals.
If you're interested in learning more about making a budget with one of these methods, read more about how to create a budget.
Budgeting tips for beginners
Once you've chosen a method, try these budgeting tips for beginners:
Keep track of money coming in: The foundation of creating a budget for beginners is to figure out your take-home pay. You can do this by glancing at your bank statement. You could also use your paycheck information but be sure to look at what's sent to the bank —not your income before taxes are taken out. This will help you understand what you must work with.
Keep track of spending: Another budgeting tip for beginners is to understand what you spend each month (or over a period of time.) Generally, when you're making a budget, you categorize items into the following buckets: essential spending, non-essential spending, and savings. This can help you identify the expenses that are important – and ones you could potentially do away with. In fact, when you find ways to cut or limit spending you can avoid situations where you'll overspend.
Find ways to save: Saving – even small amounts— will help get you on the right path. Then you can use your savings towards getting out of debt or creating a nice nest egg for yourself.
Below are a few cost saving tips. How much could you save by doing one or more of these? $25 or maybe even $50 a month?
Make meals at home: With rising inflation costs, many restaurants are increasing menu item prices. A low-hanging fruit to save a bit each month is to cook in more!
Skip the trip to the coffee shop occasionally: While it's tempting to get coffee to-go, make coffee at home more frequently to save $5-6 per trip.
Streamline streaming services: Consider consolidating your streaming accounts if you're using several. You might also find your local library has ways to stream movies and TV for free.
Carpool: With rising gas prices, think about hitching a ride with a friend or family member. Walking or biking to do errands have multiple benefits at once: no gas to pay for, a workout for your health, and it's good for the environment.
Wait before you buy: Hold off on buying items until they go on sale.
Reduce your rent: A big way to cut your expenses, could be getting a roommate or finding a more affordable place to live when your lease is up.
Set money goals: Of course, getting your finances on track is one goal. But building your budget around a concrete financial goal is important when budgeting for beginners, too. Are you saving for a new smartphone or laptop? Knowing the dollar amount you want to hit makes it easier to plan for reaching it. Trying to reduce your debt? Use your savings to increase your highest-interest debt payment – ultimately getting you out of debt more quickly.
Use an app or tool for help with saving. Keep your goal top of mind and work towards it little by little with Spruce's saving goals. What's more, Spruce can help take some of the stress out of saving by letting you automatically put money away for whatever your heart desires. Whether it's a surprise expense or something on your "someday" wish list, Spruce lets you take strides towards your unique goals.
Your likelihood of sticking with a budgeting plan will help with support. Along the way, get support from family and friends (Check out our post on family financial planning).
If you've got people in your court, they can help you feel accountable to your monthly budget- and give you the space to say "no" at times or provide an alternative if something is not in your budget. For example, instead of getting concert tickets again this weekend, they can help suggest a more economical (yet fun) option. Or your friends can adopt a similar personal budget and stick to it together!
More help managing your personal budget as a beginner
There are many budgeting tips and steps you can take to be better with money – even if you're new to managing your own finances.
And Spruce is here to help! With tools like saving goals, cash back rewards, and overdraft protection, you can be well on your way to getting better with money day by day.
Find out more about all the features Spruce has to offer.
The information is provided for general educational purposes only. It is not intended as specific financial planning advice as everyone's financial situation is different.
Was this article helpful?