Deposit checks online with mobile check deposit
5 min read
August 24, 2022 • Spruce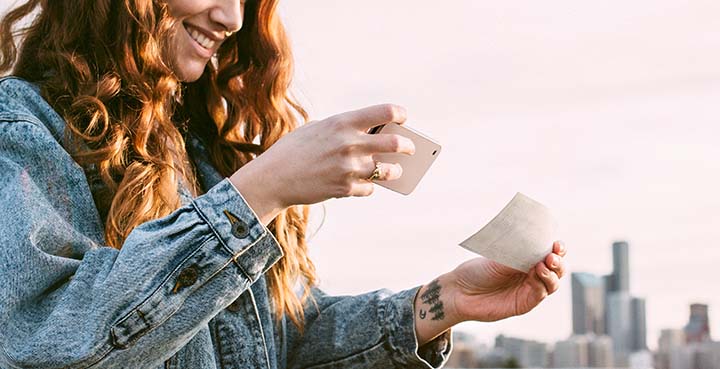 Innovation is making daily tasks easier everywhere — and banking is no exception. In fact, an H&R Block study* showed that 59% of consumers are already accessing their bank information from a mobile device, and one in five already has an online or mobile-only bank.
If you're not yet living the mobile-banking life, you may have some questions, such as how to make a mobile check deposit.
What is mobile deposit?
Mobile check deposits allow you to add funds to your account while skipping a physical trip to a bank or other financial institution. They're a convenient way to deposit your paper checks into your account from anywhere. When depositing a check online, you could be cozy at home on the couch or out and about running errands, waiting to pick up the kids from school, or in the middle of doing whatever else is on your list.
With mobile check deposit, instead of using a bank teller, you upload an image of your check using a mobile app (after you've downloaded the app). You can typically deposit the following types of checks using this method:
Paychecks
Cashier's checks
Government-issued checks (Like tax refunds or stimulus checks)
Personal checks
Why deposit checks online?
There are several reasons people deposit checks online.
Convenience: Getting to a bank before closing time can be a challenge for working adults, students, or those who are caregivers. Yet, with mobile check deposit, you forego a physical trip to the bank. And you can do it any time of the day or night — it's a 24/7 thing.
Deposit from any location: Whether you're at a family member's home in a different state or on a vacation with friends, you can deposit a check from anywhere with mobile check deposit instead of trying to locate a physical financial institution or bank.
Security: With a credible mobile banking app backed by a federally insured bank, gain the peace of mind in knowing the money from your online check deposit is secure.
How to deposit a check online
Here are some general instructions on how to make a mobile check deposit. Keep in mind the process and rules for mobile check deposits might be a bit different depending on the bank you use. It's a good idea to review the app's instructions before you begin.
Learn how to deposit a check with Spruce.
1. Confirm the amount is within limits: Due to security reasons, some banks have a minimum or maximum amount you have to follow if you deposit a check online. If it's not within the range for mobile deposits, you may have to deposit the check in person.
2. Endorse the check: Sign the back of the paper check with your legal first and last name. If the check is also made out to another person (who is also on the account), you may need to get their signature as well. Review additional instructions from your bank. For example: Some banks require you to write "for remote deposit only" or include your account number underneath your endorsement.
3. Open the mobile app: Once you've read the rules and signed the check, open the app. The app may require you to enter your username, password, or other credentials.
4. Take a clear picture: The app may require permission for access to your tablet or smartphone's camera to deposit a check online. Once you've got the right permissions, snap a pic of the front and back of your check in a well-lit area with a dark and flat background. Then, upload the image to the app. Ensure the image comes out clearly. The app may prompt you to retake the picture if the check image is fuzzy and unfocused.
5. Choose the account where the money should be deposited: Once you're logged on, you should be able to make a mobile check deposit. If you have multiple types of accounts — like a checking and savings account, the app might prompt you to select which one you're depositing the money into. You should also fill out the check amount.
6. Keep the check on hand until it's fully processed: Hang onto the check until you know it's cleared (that is, the funds have successfully made their way into your account). It could take several business days for it to clear. Your bank my notify you if the check was successfully deposited into your account. If it doesn't, sign into your account to ensure it's processed.
Now that we've walked you through how to deposit a check online, you're probably wondering if there's anything to watch out for. In short, yes. In the section below we'll walk through red flags.
What to look for when depositing checks online
If you're interested in depositing checks online, you don't want to have to pay for the convenience. That said, you'll want to find a bank that doesn't charge for mobile check deposits.
In addition, look for a trusted online banking solution. Security, transparency, credibility, and features that make your financial life easier are all factors that should impact your decision. Security features like fraud monitoring, FDIC-insurance, customizable transaction notifications, multi-factor authentication, money management tips, and 24/7 customer support from a real-life person.
Mobile banking made easy with Spruce
Using a mobile check deposit tool can save you lots of time and energy in the long run. While it may take a minute to learn the steps involved, the time you'll save makes up for it.
Want a mobile banking app suggestion that checks the boxes of convenience, security, and tools? Get to know Spruce, a mobile banking app that helps you get better with money. With features like saving goals, overdraft protection, and cash back rewards, you can be well on your way to getting better with money day by day.
Plus, you know your money is insured up to the maximum amount permitted by law as the Spruce banking products provided are by Pathward, N.A., which is Member FDIC.** (Spruce, while built by H&R Block, is itself not a bank.)
* Research conducted by H&R Block and Qualtrics Surveys, 2,000+ adults ages 18+, Fielded Sept. 15-21, 2021.
**Funds are FDIC insured, subject to applicable limitations and restrictions, when we receive the funds deposited to your account.
This information provided for general educational purposes only. It is not intended as specific financial planning advice as everyone's financial situation is different.
Was this article helpful?