Online and mobile banking 101
6 min read
August 24, 2022 • Spruce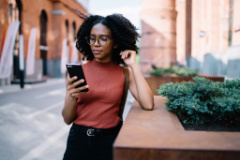 In the simplest terms, mobile banking offers convenience so you can take care of your banking tasks from the comfort of anywhere — even if you're in your pajamas. Whether you're new to mobile banking or just want to learn about how it can make your life a little easier, this post will walk you through what mobile banking is and how you can benefit from it.
Plus, we'll introduce you to Spruce, a new mobile banking app built by H&R Block and designed to help users get better with money.
Spruce℠ is a financial technology platform built by H&R Block, which is not a bank. Banking products provided by Pathward, N.A., Member FDIC.
What is mobile banking?
Mobile banking empowers you to conduct financial transactions from the convenience of your mobile device like your cell phone or tablet — connected to your own mobile number or email. Many financial institutions and other providers offer mobile banking for various purposes.
Generally, with mobile apps and banking tools, you can do a lot of the same things as traditional banking, you just might do it in a different way.
Here are a few services mobile banking tools might offer:
Adding money to your account: You can add funds with mobile check deposit, paycheck direct deposit, or add cash at a retail location.
Getting money from your account: You can get funds from ATMs or cash back when you shop. Some apps even have a corresponding credit card you can use.
Sending money to friends and family from your account
Managing your savings from a mobile browser or mobile app
Accessing and downloading bank statements
Tracking income, expenses, and account balances
Paying bills
Integrating your financial data with budgeting tools
Getting account alerts
Chatting with a customer service representative
Are online and mobile banking the same thing? What about internet banking?
Mobile and online banking are quite similar, but not entirely the same. The main distinction is that mobile banking generally uses an app that you download to your smart/mobile phone or tablet. Online banking often refers to any banking done over the internet — whether you're using your computer, tablet, or smartphone.
As you may have guessed by now, internet banking is also very similar to online and mobile banking. Like the other two terms, banking on the internet involves using digital means to complete your financial transactions vs. traditional methods. While some people prefer going to a physical branch and working with a teller, many are adopting digital banking habits as it lets them manage money on the go and avoids a trip to the bank. In fact, an H&R Block study* showed that 59% of consumers are already accessing their bank information from a mobile device, and one in five already have an online or mobile-only bank.
Benefits of mobile banking
Here are a few benefits of mobile banking that work to your advantage:
Convenience: With mobile banking, you can access financial details (and tools) any hour of the day or day of the week. So, if you have an erratic work schedule or simply are swamped with daily to-dos, simply open your device and you can pay a bill, make a mobile check deposit, view transaction history, and anything else you'd normally complete at a physical bank location.
Personal mobile banking with Spruce
While we're on the topic of benefits, let us share a few more of the perks of mobile banking with Spruce:
No monthly fees and fee-free ATMs: Get access to your cash with no fees by using in-network ATMs.
Overdraft protection: Another fee-free feature you'll see is overdraft protection with courtesy coverage. This feature allows qualifying Spruce users to get up to $20 of fee-free overdraft protection for purchase transactions, ATM withdrawals, and over-the-counter withdrawals using your Spruce debit card.
Get paid up to two days early. You work hard for your paycheck but getting it early is easy. When you set up Spruce direct deposit, you can get paid up to two days early — letting you get ahead on bills or start your weekend early.
Checking with no minimum balance: You don't need to maintain a minimum balance or deposit requirement to write checks from your Spruce account.
FDIC insurance: Since your Spruce account is FDIC-insured, you know your funds are insured by the Federal Reserve Bank up to the maximum amount permitted by law.**
What else can be said about Spruce? As a mobile banking app built for those who want to be better with money, you can read articles that cover topics such as money saving tips and how to create a budget to help you get better with money day by day.
**Funds are FDIC insured, subject to applicable limitations and restrictions, when we receive the funds deposited to your account.
Get Spruce for mobile banking and more
As you can see, Spruce has the tools to let you take care of banking online or on your mobile phone. Plus, H&R Block built the Spruce app to help people be better with money, by making banking easy and accessible for everyone.
Get started with Spruce today!
This information provided for general educational purposes only. It is not intended as specific financial planning advice as everyone's financial situation is different.
* Research conducted by H&R Block and Qualtrics Surveys, 2,000+ adults ages 18+, Fielded Sept. 15-21, 2021.
Was this article helpful?