Hot tips for summer spending — and saving!
4 min read
June 21, 2023 • Spruce
For many, summertime means parties, vacations, concerts, and other fun and fabulous activities. But summer can also mean spending lots of money. If money is tight, that may cause some worry around what the season may do to your wallet.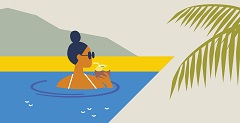 Wondering if you can still slay your summer without breaking the bank? We get it, and we're here to help. It's all about looking for the little ways to save some here and there. Plus, whether you're buying ice cream floats or floats for the pool, Spruce has ways to help you make the most of your spending.
Spending tips: Spruce features that can help you spend smarter
Make money when you spend money at select retailers with cash back rewards. With more than 10,000 participating retailers, you can score cash back at select restaurants, hotels, apparel stores, and more.
Round up to increase your savings. With this feature, Spruce rounds up your purchases to the nearest whole dollar and transfers the difference to your Extra Savings account once the transaction settles.
Just turn on Round Up in your Spruce account and bump up your savings on autopilot.
Keep an eye on spending without even trying. The thought of creating a summer budget or a vacation budget can be overwhelming. Instead of a dedicated budget, you could lean on Spruce to help track your spending trends.
See your month-to-date spend for any spending category when you log in with Spruce's Watchlist feature. And, if you wish to set a goal, use the spending limit feature to keep track.
7 Summer saving tips
Saving money isn't always about cutting back. Instead, think about it as choices for how you spend your time and money. By combining a few of these tips, you can tap into summer fun and save along the way.
Scope out your local scene. Outdoor concerts, movies or theater in the park, and other entertainment are often offered for free when you know when and where to look. Find local events near you, like street festivals or community celebrations, by searching events via social media or looking up online city guides.
Find free or discounted options. Look for days or times when zoos, museums, and theme parks offer special pricing or options to get in at no cost. Check out digital media and streaming options at your local library.
Rethink meals out. Food, drinks, tips, and even delivery fees add up. Cook at home when you can to cut down on the money spent at restaurants. Have leftovers after a meal out? Turn them into a second meal by adding in your own items from your pantry or fridge. For example, you can turn last night's fajitas and rice into today's spicy grain bowl.
Opt for potlucks and picnics. Whether it's just a few friends or a more of a crowd, you can save when everyone chips in. If your place is on the small side for a dinner party, consider picnicking or grilling out at a local park.
Rent instead of buying gear for activities or sports. Planning on camping or trying out a water sport? The cost of equipment can make some of these activities expensive. Look online for rental options in the towns and locations you'll be visiting.
Turn down and turn off. Longer daylight hours can mean more time out and about and less time at home. That may allow you to use less electricity, turn the AC down, or even shut off streaming services for a while if you're not using them regularly.
Dial down spending when you're on vacation. Look for city passes that offer a bargain on entry fees for popular attractions. Take your own snacks vs. being at the mercy of overpriced gas station or airport food. Consider where you're staying — renting a place can let you have a few meals in vs. dining out at every meal.
How Spruce can help you be better with money in summer and year-round
Spruce is all about helping you be better with money no matter the season. With features like saving goals and getting your paycheck up to two days early, you can be well on your way to getting better with money day by day.
And don't forget, you can find cash back rewards at select retailers near you anytime of the year.
Don't have Spruce yet? Get started with Spruce today.
This information provided for general educational purposes only. It is not intended as specific financial planning advice as everyone's financial situation is different.
Was this article helpful?