How to buy a house with bad credit – Is it possible?
8 min read
September 22, 2022 • Spruce
Homeownership is a dream for many Americans. It can represent not just financial stability, but also a major life goal. But if you don't have a perfect credit history, it's a dream that may feel like a stretch — or even completely out of reach.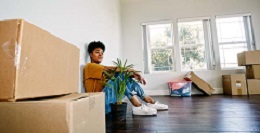 Here's the news that will be music to your ears — home buyers with bad credit can often still buy real estate. From determining your credit score to tips for evaluating your loan options, we'll walk you through finding home loans even with poor credit.
Starting to sweat even thinking of it? Keep in mind, the little steps can add up when working towards gaining financial stability and we're here to help you along the way. Whether it's building a good credit score or starting good credit card usage and saving habits, we'll give you the right resources!
Can you buy a house with a bad credit history?
Generally, to obtain a conventional mortgage loan, you need a score of 620 or higher. However, lenders do approve applications for these types of loans for first-time buyers even with low credit scores. If you have a lower credit score, there may be other home loan options for you to consider. We'll cover those loan types later in this post.
Buying a home with bad credit: Where to start
Don't let lower credit numbers deter you from exploring home ownership. While it may feel like the chances aren't in your favor, it can be done! Follow along as we help guide you in the right direction.
1. Figure out your credit score
The first step to buying a house with bad credit involves knowing your credit score. Your credit score is an essential factor in determining your ability to pay debts and helps lenders evaluate you as a borrower. Mortgage lenders use a version of the FICO credit score* to determine your eligibility but will usually take the lower score from the three bureaus or use an average from your scores.
Hot tip: Want to view your credit score without impacting it? Spruce offers a credit score tool — that lets you see in an instant where you fall in terms of your credit score — and for free. You just need to have an open Spruce account.
And if you're wondering if you can improve your credit score, with a little work it's absolutely possible. It's a smart idea to review your credit score from all three bureaus to make sure there are no errors or misses from their report that negatively affects it.
*Note: While mortgage lenders typically also review FICO credit scores during underwriting, FICO scores can vary depending on the criteria established by the credit reporting agency the lender uses for their scores. That means the FICO credit score feature in Spruce, though accurate for the feature, may vary from the FICO scores a lender receives
2. Prepare to shop for a lender
Choosing the right home loan is just as important as determining your credit score. Home loans are available from many types of lenders — like commercial banks, mortgage lenders and brokers, and credit unions. Different lenders may quote you different amounts. And the terms of the loan are different. Loan type, monthly payment, length, down payment, and interest rates are essential to factor in as you shop for mortgages.
3. Get pre-approved to better understand your budget
Before looking for real estate, consider getting the loan amount pre-approved, which is like a provisional "green light" on the loan. Doing this will give you a clear idea of what you can get approved for, as well as provide you with better negotiation power.
As part of preparing for the home purchase process, you should also consider setting up a budget to gain a better understanding of what you can afford.
Need help in this area? We have your back: Check out our post on how to create a budget.
4. Save for your down payment now
Start saving for a down payment right away. Although your credit may have taken a hit in the past, you can get a jump start on this important financial move.
This can help you in a couple ways. First, a larger down payment may make it easier to qualify with some lenders. Additionally, it can help lower the overall amount of your loan thus lowering your payments as well.
Not sure where to find the extra funds in your budget? Check out our ideas for ways to save.
5. Explore mortgage loan options for those with bad credit
Once you finish the steps listed above, you can explore bad credit mortgage choices and meet with lenders. There are a few different loan choices available to you — even with poor credit — which we'll outline next:
FHA loans for bad credit
Federal Housing Administration (FHA) loans provide mortgages for FHA-approved lenders. FHA loans are typically for first-time homebuyers who fall into a specific income range and are known to have low down payments, lower closing costs, and less stringent credit qualifying criteria than a traditional home loan. The minimum credit score you need to obtain an FHA loan is in the 500s. Each state might have different loan requirements outlined on the U.S. Department of Housing and Urban Development (HUD) website.
Another consideration for FHA loans is that they require an Up-Front Mortgage Premium and a Mortgage Insurance Premium (MIP) to be paid instead of Private Mortgage Insurance* (PMI). Depending on the terms and conditions of the loan, most FHA loans today will require MIP for either 11 years or the lifetime of the mortgage.
*Private mortgage insurance is a policy that protects the lenders from loss if a homeowner stops making payments.
VA loans
Veterans Affairs (VA) loans are issued by the U.S. Department of Veterans Affairs and are designed for current or former military members, and eligible surviving spouses. They don't require a down payment and don't charge private mortgage insurance (PMI) The VA guarantees a portion of the loan, which means they cover a part of the loan payment if you default (or don't pay back the loan). This allows lenders to provide more favorable terms because the risk of loss for non-repayment is not quite as high. There is no VA minimum credit score for a mortgage. Lenders can set their own requirements for obtaining a VA loan.
USDA Loans
A USDA loan is a loan granted from the U.S. Department of Agriculture. It's a no-down-payment mortgage for rural and low-density area property. To qualify for the loan, you should have a minimum credit score of 620 and meet a specific income ratio and range.
Conventional home loans for bad credit
You can also pursue a conventional loan (one that a government agency does not back). Conventional loans meet the requirements of government-sponsored programs like Fannie Mae and Freddie Mac.
Conventional loans generally require a larger down payment and have higher credit score requirements than FHA loans. Conventional loans can be granted with a credit score as low as 620, but some lenders look for 660 or more and ultimately it is up to the lender to set their underwriting criteria. With that in mind, conventional loans have stricter credit requirements than government-backed loans like FHA loans.
Interest-only mortgage payments and payment-option ARMs
You may have also heard of an Adjustable-Rate Mortgage (ARM) or interest-only mortgage. Common candidates for an interest-only mortgage are people who aren't looking to own a home for a long-term goal – they may be frequent movers or are purchasing the home as a short-term investment. ARMs are risky, and they're not a fit for every borrower. An ARM may be right for you if you're not buying your forever home, you're comfortable with the risk, and you're able to make extra payments during the introductory period. While there are some cases where this type of loan makes sense, it's generally not advised for those on a tight budget or with a challenging credit profile.
To understand why, let's cover how these loans typically work. With an interest-only mortgage, you pay interest only for a specified number of years, then make principal and interest payments for the remainder of the term or pay the full amount of principal and interest owed in what is called a balloon payment. Most loans in this category have adjustable interest rates that can change as often as once per month or over a few years. The payment periods for interest-only loans may range from three to 10 years but is determined by the lender. Rates may vary depending on the market rate at the time, which means, you can't predict higher interest rates. With that context in mind, you wouldn't want to take on a loan that you can't afford the payments on down the line if interest rates were to jump.
Compare loans
After you get offers from lenders, compare your options, and choose the right loan for you. What should you be looking for? You want to make sure that your loan terms are the most favorable for you – meaning it has a reasonable mortgage rate, payment terms, etc.
Cautions for buying a home with bad credit
If you have a low credit score, you should be aware of predatory lending. This is an illegal practice in which a mortgage lender takes advantage of a borrower by offering them a mortgage loan with unreasonably high interest rates and/or fees that don't serve the borrower's best interest. These loans often lock borrowers into unfair loan terms, which can cause severe financial hardship or default.
Predatory lending can lead to higher fees and rates and may put you into an expensive loan that you can neither make the payments on (thus defaulting) nor ever be able to pay off.
More resources for home buyers with bad credit
With the right strategy, buying a home with a bad credit score is possible. The goal is to understand your options and get organized before setting out to purchase a home.
With Spruce, you can learn what makes up your credit score and keep up to date with your progress — all for free. Plus, Spruce's saving goals feature can help you set aside money for your down payment and other home buying expenses.
Find out more about all the features Spruce has to offer.
This information provided for general educational purposes only. It is not intended as specific financial planning advice as everyone's financial situation is different.
Was this article helpful?