How to budget for an apartment: Determining how much rent you can afford
6 min read
April 21, 2022 • Spruce
Striking out on your own for the first time? Or maybe you're moving to a new town? No matter the reason, renting a new apartment can be exciting. But you also may be thinking about how to budget for an apartment and wondering, "how much rent can I afford?"
Although it can be intimidating, hats off to you for prioritizing your financial wellness above other things! In some ways, the apartment budgeting process is similar to buying a house. When you buy a house, you often plan your budget around how large of a house payment you can afford. Doing the same when you're renting is a smart move for a number of reasons.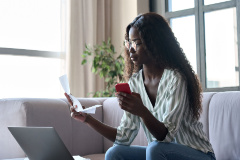 If you're starting out in the "real world," it's good to begin with renting because it can help prove your creditworthiness down the line. Or if you're more established but still have debt to pay off, it's wise to find a low-cost rent that will allow you to pay down debt.
Renting has advantages other than finances, too. If you're moving to a different place or even a new city, renting provides more flexibility than buying a property. In addition, you can put down your wrench – you generally won't have to lift a finger when something breaks in your rental property. It's usually up to the rental property maintenance personnel to fix it.
So, if renting is indeed for you, follow along as we guide you through how to budget for an apartment and answer "How much rent can I afford?" based on some real-life examples.
Plus, we tell you how Spruce mobile banking features can help you along the way.
How to budget for an apartment
While it's fun to budget for a new phone, vacation, or special concert, you need to account for necessities in your budget. We get it — hearing "how much rent can you afford" may cause some anxiety. However, taking a little time to look at the numbers can be worth it.
One thing you don't want to do is rent an apartment that's so expensive that you become "rent-poor"—that is a situation where you find it difficult to afford everything else.
To avoid being rent-poor, a common rule-of-thumb is to spend no more than 30% of your monthly take-home pay on rent and other household expenses like utilities, renters' insurance, parking, and any other rent-related expenses. Create a personal financial budget to make sure what you spend on rent makes sense based on your current expenses.
Here's how to budget for an apartment:
1. Sum your total income. Add up your total income after tax. This will help you gauge how much rent you can afford and account for the rest of your expenses.
2. Determine a budgeting approach that covers your necessities. One popular budgeting strategy is the 50/30/20 rule, which breaks out 50% of your income for necessities, 30% for discretionary spending, and 20% for savings. With this simple approach to savings, you can split up your income among your spending categories and commit to your savings goals.
Your rent would fall into the necessities category. It could also include essential expenses like:
Groceries
Utilities
Transportation
Childcare
Insurance
Loan payments
If you can't cover your expenses with 50% of your income, don't panic. Other breakouts, such as 70/20/10 or even 80/20 might work for you. What's important is finding the budgeting method that you can stick with.
3. Figure out how much you should spend on rent. Of all your necessities, housing (or rent) will take up the biggest portion of your paycheck. If you live in a big city, it may cost more. If you live somewhere more rural, your rent could be less. That's okay if it fluctuates a bit. Just remember if you spend more, you need to reduce your budget for other categories to make up the difference.
So, now to answer the big question, "What is my budget for an apartment?" with an example.
Let's say you make $3000 a month, (take home pay). Using the 30% rule of thumb for rent, $900 of your $1,500 should go to rent.
To see the full picture, the breakout looks like this:
50% on necessities ($1,500)

30% on rent ($900)
20% on other necessities ($600)

30% on discretionary spending ($900)
20% on savings ($600)
In the end, no more than $900 should go towards your monthly rent costs (plus associated housing costs).
Hidden housing costs you may see are:
Application fees
Rental insurance
Utilities
Security deposit
Pet fees
If you're not sure what the all-in cost of an apartment is, ask the landlord. They can walk you through the full picture of what you'll owe.
"Making rent is a struggle by itself. Do I need account for savings?"
If you can't consistently save each month, don't worry. And definitely don't give up on saving altogether. Every bit helps, even a few dollars a month. Putting some savings aside will help when you have an unexpected expense that could cause you to miss a rent payment.
Want an easy way to put money aside? Find out how Spruce's saving goals feature makes it easy to tuck money away for whatever goal you choose. You can also check out our savings calculator to figure out how long it may take to reach your savings goals.
One-time costs associated with budgeting for an apartment
Monthly budgets account for the routine expenses, but when you're actually moving, you'll likely have some one-time expenses you should account for.
Budgeting for moving into an apartment
Before you even start your search for your new digs, consider planning a budget for moving into an apartment. This one-time expense could come with a high price tag depending on your situation.
Here are a few things you might need to account for:
Hiring movers
Renting a moving truck (if not included with the moving contract)
Buying packing boxes, tape, and wrapping materials
Paying for gas if your move is outside of your local area
Of course, you can reduce costs if you're able to have friends and family help you in your move. If you're moving out of town, combine a bit of work and play to make it worth your friends' while. You get their help while you move in; they get a free place to stay—and maybe even the proverbial "moving day pizza" from your new area.
How much to budget for furnishing an apartment
If you're upgrading places or it's your very first apartment you have all to yourself, you might need to dress it up with new furniture and basic supplies, including kitchen utensils, bath rugs, and more. If this is the case, you have a number of options. With a smaller budget, you can look to second-hand stores, flea markets, garage sales, or even hand-me-downs from family members. While you may get a couch that's a little lived in, you can take comfort in knowing you made the decision to keep your budget in check!
If you want to furnish with new items, it could cost thousands of dollars depending on the amount of space. Keep in mind, the cost and quality of furniture and accessories varies a lot. If your heart is set on new furniture, keep your eye on holidays sales. Furniture tends to go on sale around each holiday – even Veteran's Day, Memorial Day, and Labor Day.
Get more help with money matters from Spruce
Interested in money tips beyond knowing how much rent you can afford? Get Spruce.
With smart tools like saving goals, cash back rewards, no hidden or monthly fees, and more, you can start to be better with money in no time.
Find out more about all the features Spruce has to offer.
This information provided for general educational purposes only. It is not intended as specific financial planning advice as everyone's financial situation is different.
Was this article helpful?