Back-to-school shopping tax-free weekends and 10 more saving tips
7 min read
July 25, 2023 • Spruce
One minute it seems like you just got in your groove, living your summer life — and the next you see a Back-to-School sign and a whole different vibe takes hold. Suddenly, you're starting to think of shopping for the new school year and dreading "how much is this going to cost me?"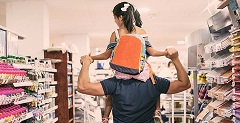 Whether you're a parent shopping for your high school, middle school, or elementary school student or you're a college student getting your gear for classes, that school shopping list can get expensive fast, especially considering the impact of inflation.
If you're starting to sweat it (and it's not the summer heat), don't fret your finances. Here's where back-to-school tax-free weekends and tips from Spruce can help you with real savings!
Back-to-school tax-free shopping and more saving tips
Pencils, markers, notebooks, calculators, computers, clothing items, shoes and more. It all adds up and can really wreck your budget. Thankfully, states offer dedicated state sales tax holiday weekends where you shop for certain back-to-school eligible items with no tax on the state level.
To help you take advantage of the tax holiday weekend in your state, we've listed the weekends below. Lower in this post, we're also sharing other tips for back-to-school saving and how Spruce can help you save along the way.
Back-to-school tax-free weekend 2023
When is the back-to-school tax-free weekend in your area? Check our infographic below and list to find the details for your state.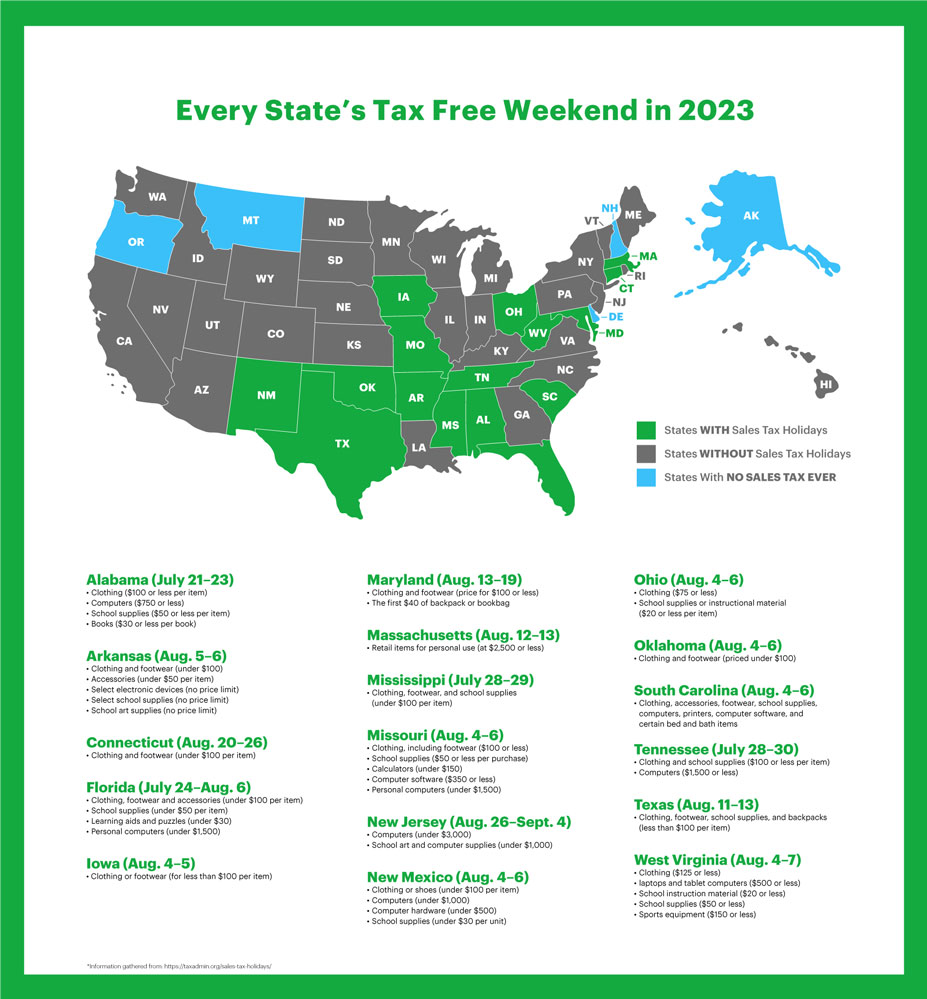 Tax-free weekend states and dates
| | | |
| --- | --- | --- |
| State | Tax-free weekend dates | Resources |
| Alabama | July 21-23, 2023 | https://www.revenue.alabama.gov/sales-use/sales-tax-holidays/ |
| Arkansas | Aug. 5-6, 2023 | https://www.dfa.arkansas.gov/excise-tax/sales-and-use-tax/sales-tax-holiday |
| Connecticut | Aug. 20-26, 2023 | https://portal.ct.gov/DRS/Sales-Tax/Sales-Tax-Free-Week |
| Florida | July 24 – Aug. 6, 2023 | https://floridarevenue.com/Documents/Printable%20calendar.pdf |
| Iowa | Aug. 4-5, 2023 | https://tax.iowa.gov/iowas-annual-sales-tax-holiday |
| Maryland | Aug. 13-19, 2023 | https://marylandtaxes.gov/divisions/comp/Shop_Maryland_Tax-free_Week/Tax_Free_Week_Facts.pdf |
| Massachusetts | Aug. 12-13, 2023 | https://www.mass.gov/info-details/sales-tax-holiday-frequently-asked-questions |
| Mississippi | July 28-29, 2023 | https://www.dor.ms.gov/sites/default/files/Sales%20Folder/2022%20Sales%20Tax%20Holiday.pdf |
| Missouri | Aug. 4-6, 2023 | https://dor.mo.gov/faq/taxation/business/back-to-school-sales-tax-holiday.html |
| New Jersey | Aug. 26-Sept. 4, 2023 | https://www.state.nj.us/treasury/taxation/businesses/salestax/salestaxholiday.shtml |
| New Mexico | Aug. 4-6, 2023 | https://www.tax.newmexico.gov/news-alerts/tax-holiday/ |
| Ohio | Aug. 4-6, 2023 | https://tax.ohio.gov/help-center/faqs/sales-and-use-tax-sales-tax-holiday/sales%20and-use-tax-sales-tax-holiday |
| Oklahoma | Aug. 4-6, 2023 | https://oklahoma.gov/content/dam/ok/en/tax/documents/resources/publications/infographics/SalesTaxHoliday.pdf |
| South Carolina | Aug. 4-6, 2023 | https://dor.sc.gov/taxfreeweekend |
| Tennessee | Jul. 28-30, 2023 | https://www.tn.gov/revenue/taxes/sales-and-use-tax/sales-tax-holiday/sth-traditional.html |
| Texas | Aug. 11-13, 2023 | https://comptroller.texas.gov/taxes/publications/98-490/ |
| West Virginia | Aug. 4-7, 2023 | https://tax.wv.gov/Business/Pages/Business.aspx |
10 More back-to-school savings tips
Aside from tax-free holidays, you may be wondering "how do you save on back to school?" as you review your list.
As many smart shoppers know, it may take a little of this and a little of that but using a few hacks here and there can mean real savings in the end.
Determine what's a "need" and what's a "want." Schools often provide a list of items you need for a specific grade or class. You may have less wiggle room with your required school supplies, but you can look for more affordable options. Other items on your list may be wishes, like several new outfits or pairs of shoes. For these personal items, consider creating a budget to keep your spending in check. To help get you there, consider the consignment options mentioned next.
Shop consignment sales or second hand. Consignment sales have become popular shopping options for parents in the last few years. You can find everything from clothes and shoes, to backpacks, coats and lunch boxes — and save a ton compared to retail shopping. Even if you only buy some of your day-to-day school finds at a consignment or second-hand shop, you may save enough to better afford the brand name shoes your daughter needs for the volleyball team or the trombone lessons your son wants to get first chair in band.
Buy used electronics and textbooks. These can be pricy items, so finding used options can be a real money saver. In fact, if you're short on time for shopping, make these items your priority. It can be well worth it to save big bucks on a used calculator versus a few cents here and there on crayons or glue. Check your school's website for used textbook options and tech buy-back sites for tablets, laptops and more. Be sure to check these savings against what you might save on a back-to-school tax-free weekend sale to see which would give you the best deal.
Compare prices. When back-to-school time hits, usually so do the ads in your mailbox. Take a few minutes to see who is selling what and for how much. Don't forget to compare the sales price online as well. Then identify which one or two stores will let you shop your list for less. You're looking for overall savings versus driving all over town for individual items, which could burn up your savings in gas money.
Buy in bulk where possible. Consolidate your kids' lists and go for a 20-pack of folders and pens instead of buying them individually. If there are too many in a package or you have an only child, check the next grade's list. Chances are you'll need notebooks and other items again next year. Or, find a neighbor or classmate and split up bulk items that you buy together.
Take advantage of cash back with Spruce. Maybe you're shopping back-to-school on tax-free weekends, or just shopping for other items, like groceries, every week. Why not get cash back that you can use anytime? With Spruce, you can make money when you spend money at select retailers. Automatic cash back rewards go into a Spruce extra savings account that you can turn around and use again whenever you like. Note: The participating merchants can vary, so be sure to check your offers with the Spruce app.
Use student discounts. Paying less as a student is for more than movie tickets. Many retailers will offer a student discount for anything from everyday clothing to name brands. One small catch here — keep your "needs" and "wants" in mind and avoid buying more just because you're paying a little less. Need help sticking to a plan? Check out our post on college student budget tips.
Find it for free. If you're trying to save money on a low income, consider free options that might be in your area. This could be from organizations such as Boys and Girls Club, Salvation Army or other community options in your area. Check out websites or social media pages that offer up supplies that people no longer want.
Think twice about buy-now, pay-later features. Shopping online? You might see an option during the check-out process that lets you split your purchase into multiple payments. While these options may not charge interest, there may be fees involved if you make late payments. The last thing you want to do is end up paying more unnecessarily.
Encourage budget-minded shopping with your kids. Hitting the local retailer with your kids in tow can mean lots of extras making their way to your cart. While you'll have to "right size" the conversation depending on your kids' ages, you can talk about how saving money now will let you buy something else later. Plus, it's helpful to let kids see you make the same decision for things on your want list. See our related article: Family financial planning guide .
Back-to-school savings tools
Whether you're saving for this year's school expenses or want to get a jump on future years, a dedicated account for your savings can make all the difference. Many times, people have the intention of saving, but if you don't have a special place to tuck away savings, you can easily end up spending it.
Saving with Spruce is easy and there are no monthly fees. Sometimes simple ways are the best ways to get started. With Spruce, you can start saving for school expenses in just a few clicks.
You can set up a saving goal for your school expenses and add money to this account as often as you like. You can even set up automatic transfers to help keep you working towards your goal. Plus, as mentioned above, Spruce cash back rewards can help make your spending go further and let you add to your savings. Yes, we're here to help you in more ways than one!
Related: Check out our savings calculator to figure out how long it may take to reach your goal.
Get more help with money matters and financial tools with Spruce
Spruce is designed to help you be better with money. It's a mobile banking platform that gives you a spending account, a savings account, cash back rewards, a way to get paid up to two days early and more.
The best part is Spruce has no monthly fees,, no minimum balance, and access to fee-free ATMs
Ready to tackle back-to-school shopping with Spruce? Get started with Spruce today.
Spruce℠ is a financial technology platform built by H&R Block, which is not a bank. Banking products provided by Pathward, N.A., Member FDIC.
This information provided for general educational purposes only. It is not intended as specific financial planning advice as everyone's financial situation is different.
Was this article helpful?