What are the differences between checking and savings accounts?
6 min read
Spruce
You've decided to open a checking or savings account. Congratulations! This is an exciting step. Savings and checking accounts will keep your money safe so it's there when you need it.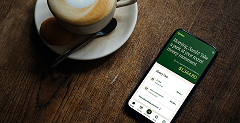 They also come in a variety of flavors. You might be most familiar with accounts from banks and credit unions that offer traditional features, like the potential to earn interest and order paper checks. But you may also find some of those traditional features on accounts offered through online banks and mobile apps.
Understanding the key differences between checking vs savings accounts and the range of features available can help you choose which type of account you'll need to help you manage your money.
Read on as we cover the basics. Plus, we'll explore the savings and checking account options available with Spruce, along with other Spruce features.
Defining checking vs savings account
Savings and checking accounts are offered through banks, credit unions and other financial institutions and provide a flexible place to park your cash.
As their name suggests, savings accounts are deposit accounts. They're built to help you save money long term, build an emergency fund, or save in the short term for a big-ticket item, like a laptop or a vacation.
Checking accounts, on the other hand, are built for everyday transactions, such as paying bills and making purchases online or at a store. Typically, you can use your checking account to access your funds by writing a check or using your debit card to make purchases, or even an ATM withdrawal.
How checking vs savings accounts work
Checking and savings accounts have several similarities, including:
Accessibility. Both keep your funds at the ready, which makes them good options for holding money you need immediately or in a potential future case of an emergency. You generally can make ATM withdrawals from both types of accounts using a debit card.
Deposit limits. Generally, there are no limits on how much you can deposit into your account.
Insurance. Both checking and savings accounts are usually insured by the Federal Deposit Insurance Corporation for amounts up to $250,000 per financial institution as long as the institution is an FDIC Member. This means your deposits are protected if the bank goes under, so you can rest assured that the money you put there is safer than it would be in your piggy bank at home.
Flexibility. You may be able to use each account to transfer money or make electronic deposits.
Some checking and savings accounts are interest bearing, meaning they pay you a modest amount of interest each month. Other financial institutions, like online banks and mobile apps, may offer different incentives in place of interest. Cash back rewards (available at select retailers with Spruce!), for instance, provides another way to give your savings a boost.
Depending on the financial institution, there may be fees or other restrictions associated with checking and savings accounts. They may include an account opening fee or minimum required deposit to open the account, monthly maintenance fees, low balance fee for not carrying a minimum balance, overdraft fees or even fees for not using your account as often as required by the account agreement.
Compare interest rates, fees, and other features carefully when considering your checking and savings account options. You may want to avoid accounts with high fees as you consider ways to boost your savings.
Differences between checking and saving accounts
While there are quite a few similarities, what are the differences between checking and savings accounts to be aware of to determine which is best for you?
First, banks with interest-bearing accounts will often offer a higher interest rate for savings accounts than checking accounts (if any interest is offered for checking at all). That's because money is generally stored in savings accounts longer. Some banks will limit the number of withdrawals that you can make from your savings account within a specified timeframe and may also charge a fee for each transaction that goes over that limit.
The money in a checking account is most easily accessed by the account's debit card, which is issued at the same time the account is opened. Keep in mind, there may be limits on how much money you can withdraw in a day from an ATM. In addition, checking accounts can offer paper checks, which the account holder may have to pay for. Checking accounts typically offer lower interest rates than savings accounts, and many don't offer interest at all.
Easily manage Saving and Spending your money with Spruce
The Spruce Saving and Spending Accounts offer a suite of tools, from traditional options like paper checks to cash back rewards1 at select retailers.
Savings. With your Spruce savings account, you can tuck away money into up to two no-cost saving goals. Automated savings options allow you to set money aside for an emergency, a family vacation or a down payment on a new car, for instance. Once you've decided how much you need to save, set up a dedicated saving goal on the Spruce app. Make an initial contribution toward your goal, then add money as often as you want or automate your savings with regular contributions. Doing so can help you get to your savings goal fast.Setting money aside for big purchases in a separate place helps shield the money from the temptation to spend it on other things. But if you find yourself in a bind, you can always move your money to your Spending Account whenever you need to.
Spending. You can use your Spruce account to make purchases in person or online. Plus, did you know you can make money when you spend money? Yes, please. Get cash back deposited automatically in your "Spruce Extra Savings" account when you spend money at select retailers with your debit card or digital wallet. These extra dollars can be used to increase your emergency fund or get you that much closer to reaching your financial goals. Plus, Spruce makes it easy to add money to your account through direct deposit. In addition to using your Spruce debit card to access your money, you can also use a paper check, which is preferred by some landlords or businesses and those who like to use an easily traceable method to make payments or monetary gifts. If you need them, you can purchase a book of 25 checks that access your Spending account for a fee of $15.
Additional features. Spruce accounts also offer other features that help you save more money and manage your day-to-day finances. With Spruce, there are no monthly fees, no minimum balance requirements, plus no-fee overdraft protection. What's more, you can get paid up to two days early , use thousands of fee-free ATMs and have free access to your credit score, so you can always keep tabs on your financial health.
Of course, with the convenience of mobile and online banking, you can check your account balances anytime of the day or night.
Choose the Spruce mobile banking app to take charge of your money with confidence
Now that we've covered the difference between savings and checking accounts, it may make understanding your money that much easier. Plus, with the Spruce mobile banking app, you'll find an easy way to manage your money and work toward achieving your financial goals.
This information provided for general educational purposes only. It is not intended as specific financial planning advice as everyone's financial situation is different.
Was this article helpful?