New! Build a budget, the easy way
Spruce News
February 16, 2023 • Spruce
Simple and easy. Not the words you typically think of when it comes to budgeting. But with Spruce's new tool, making budgeting easy is what it's all about.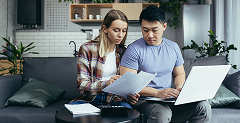 Pretty much everyone wants to be better with money. And that often starts with budgeting, which starts with tracking your spending. Starting to stress just thinking about it?
Here's the good news. Spruce has features that help let you take control of your spending — without a lot of work to get started.
How Spruce's easy budgeting tool works
The Spruce mobile banking app automatically sorts your transactions into categories so you can easily see the money coming in as well as where it is going when you spend it. You can even choose specific categories to watch closely to make sure your spending habits match your money goals.
Spruce's tool can help you with budgeting:
See which categories you typically spend the most money in
Set a spending level on any category
See opportunities to save and adjust your spending
Related: How to create a budget, 9 Money saving tips.
Ready to get started? We'll take the first step for you!
Understanding where your money goes starts almost as soon as your first transaction. There's no enrollment and transactions are automatically categorized.
You'll be able to view your month-to-date spending trends on the Spending Tab.
Want to go deeper? As a next step, you can:
Track spending in categories that are important to you by setting up a Watchlist. From your my Life homepage in the Spruce App, scroll down until you can see the Watchlist card. Simply click "Add Category" to add your desired category to your Watchlist.
Keep spending in check by setting up a spending level. After you add a category to your Watchlist, you will be asked if you wish to create a spending level for it. If you need to add a spending level at a later time, simply click "Edit" on your Watchlist card, click the pencil icon next to the category you wish to add a spending level to, and you will be prompted to enter your desired spending level amount. Note: Spending levels are for your awareness only. It will not prevent any transactions.
Don't have Spruce yet? Get started.
This information provided for general educational purposes only. It is not intended as specific financial planning advice as everyone's financial situation is different